Net promoter score
'Know your customer' is a key business tenet and finding out what they think about you is a supporting principle.
A basic way to extract this customer feedback is to survey them on how likely they are to recommend a business's products and services to calculate a net promoter score (NPS). This number serves as a proxy for customer satisfaction, loyalty and the value they place on the offering.
NPS is a useful tool to gather sentiment on topics such as product development, pricing or customer service. Its true benefit is not telling a business what it is doing right, but where it lags. "It's a means to locate problems and make improvements," says Olof Faxander, head of the operational team at Nordic Capital.
Then the business's task is to systematically address its NPS drag factors to improve its overall business proposition and boost customer retention. David Kirby, partner at Livingbridge, says: "When you make an investment decision, if you had a choice as an investor between a business that was really good at finding customers and not very good at keeping them, versus a business that was a bit mediocre at finding them but good at keeping them because they offered a great product or service, and great support, I'd always take the latter."
Belief in the value of a business's product or service sits at the heart of an investment decision. However, Kirby warns using NPS methodology is not always fool proof as customers typically never recommend some offerings. For example, people recommend films but generally not cinemas, which would generate a low NPS. "But that does not mean that cinema business is good or bad – you need to consider the context," he adds.
Operating partner
Operating partners are prolific. Most firms have them, but the model differs across the industry.
For some managers, 'operating partner' still refers to the occasional involvement of an external industry specialist or advisor to aid the deal team in key aspects of a company's transformation. For many more, the concept now describes portfolio or operating teams of in-house professionals directly accountable for value creation.
Portfolio or operating teams typically include a mix of people with specific industry backgrounds, functional specialists and former management consultants. Increasingly, they perform a key role in contributing to pre-deal due diligence and value creation planning, devising value creation 'toolkits' and other work toward the investment decision. Post-deal, after assisting bringing the new acquisition on board, they take a leading role in its operational transformation and growth initiatives.
At its most evolved, the operations or portfolio team works closely with the deal or investment team and is similarly incentivised. "We try to make sure there is organisational alignment and to achieve a blended team," says Dawn Marriott, partner and head of the portfolio team at Hg. She adds: "Whether from an operating or an investor background, [we try to ensure] that the teams collaborate, because that will drive value."
Alain Vourch, partner at Charterhouse Capital Partners, echoes this. "The portfolio team works in an integrated way with the investment team to support management teams in the value creation agenda. This triangle needs to work well together."
This model clearly shows how much more engaged private equity firms now are in creating value at their portfolio companies. No longer just occupying a board seat as an operating partner, now during the implementation of the value creation plan, portfolio team members could be deployed full time at the portfolio company.
Key to the role's evolution, and GP perception of its value, has been rising amounts of capital targeting private equity and subsequent competition for assets. Having operational expertise is a differentiator.
"What a PE house has to do between entering a deal and exiting four years later, is very different to 30 years ago when you backed a decent team, put in a non-exec chairman and enjoyed the ride," says Andrew Ferguson, partner at Baird Capital. "Now it is much more focused on how a [private equity] house brings value, given you have a high market price for an asset, a limited timeframe and have to meet return aspirations."
Skills and experience are key. "Operational value creation comes from understanding the skills your team brings and backing companies where your firm is the logical partner," says Martin Calderbank, managing partner at Agilitas Private Equity. "While the Agilitas team has a number of transformational specialists, we're all operational investors. Being focused in approach and selective in the companies to back allows skills to be honed and for replicable, consistent means of creating value to be developed."
Pricing
Pricing is a core driver of revenue growth. However, management teams are often extremely wary of changing it.
"Pricing is often one of the most challenging topics for management teams to tackle, because it's complicated and doesn't fall squarely into the remit of one particular team," says David Kirby, who leads the growth acceleration team at Livingbridge. "If you are a founder, you've spent so long building relationships with customers that the fear of losing [them] can be a barrier. Often with SMEs, pricing is a subject that's never been on the table."
However, this fear is based on a misconception that a pricing strategy means putting prices up, Kirby says. "Often this is not the case; it's about fundamentally understanding the value you are creating for your customers or other stakeholders, and how aligned that is with the value you are extracting. Some of your customers would have paid more. Your task is to find out who," he explains.
"Pricing is tricky and I've seen many projects where pricing at first glance looks very, very difficult to do anything with," says Olof Faxander, head of the operational team at Nordic Capital. "But when you start to think about it creatively you find a lot more avenues."
He cites Nordic's realised investment in Danish shipping business Unifeeder as an example. Nordic was able to adjust pricing at the business, where contracts were competitively tendered, by identifying areas where it could charge additional fees, for instance for customer-caused loading delays. The result "greatly enhanced the profitability of the business", says Faxander. The customer response? "They understood the logic in the pricing model because it focused on the added value and not only on the additional costs."
Quants and data lakes
The jargon can be confusing. There are data lakes, warehouses, pools and even swamps.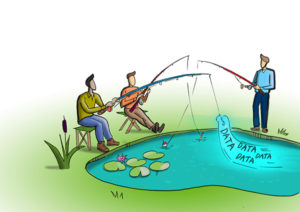 A data lake, like a warehouse, describes a repository of large volumes of data ready to be extracted and interrogated to answer business-critical questions. A dedicated analytics function "typically doesn't exist when we invest", says David Kirby, partner and leader of the growth acceleration team at Livingbridge.
Consumer-facing e-commerce businesses are typically ahead on collating data, while B2B service providers lag, says Kirby. Data may be dispersed across different software and systems, including CRM, finance and HR functions, and is often not aggregated. SME businesses can also miss out on realising the wealth of data at their disposal because they have not had the "time, capability or imperative to understand what's going on under the hood from a data perspective", he says.
When investing in a business, helping them build this capability is "foundational to everything else that follows", Kirby says. "This means getting the purest form of data and then starting to surface it to make it available across a business. Then it can start answering questions that management never thought it would be possible to answer."
Collecting data also has direct commercial applications. Charterhouse Capital Partners assisted exhibition operator Comexposium to put in place a data lake to upgrade the business's digital marketing, says Charterhouse partner Alain Vourch. This gave it "the ability to generate more qualified leads for exhibitors and better match visitors' expectations", he says, which was key to the business that the GP sold in March 2019.