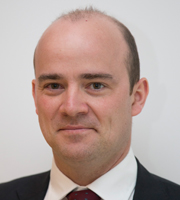 11 Cameron Graham
SL Capital Partners
age: 34
job title: investment director
Graham joined the Standard Life unit almost a decade ago and has helped raise at least $780 million across three funds. Insiders tell us he has been instrumental in developing the firm's secondaries strategy and has led many SOF fund investments, including the acquisition alongside Partners Group of a €500 million separately managed account from California Public Employees' Retirement System. He is also making a name for himself on the conference circuit as a thought leader, so when you see him on stage, remember you read about him here first.
12 Tyler Zittergruen
Park Hill
age: 31
job title: principal
Since joining the firm in 2011 Zittergruen has become a key member of one of the biggest players in secondaries advisory. In the last 12 months alone he has played a role in completing transactions worth more than $3 billion. But beyond that, those who nominated Zittergruen repeatedly point to his "superior relationship-building skills". He is also actively engaged in the sourcing and execution of LP portfolio deals and GP-led transactions.
13 David Lei
Metropolitan Real Estate Equity Management
age: 29
job title: vice-president
Lei is an impressive guy, and that's not just how his peers describe him. Here's why: despite being in his 20s, he was integral to setting up Metropolitan's secondaries business alongside colleague Sarah Schwarzschild. He joined from Partners Group in 2014 and is credited with being the architect of Metropolitan's real estate-specific underwriting models for secondaries and positioning the Carlyle unit as a worthy competitor. If working to establish a real estate secondaires business isn't impressive, we challenge you to tell us what is.


14 Edward Keith
Landmark Partners
age: 35
job title: managing director
Keith joined the private equity and real estate secondaries firm in 2007 and rose to lead its $1.3 billion real asset investment programme. With around $1 billion in closed deals and more than $400 million in energy fund restructurings to his name, he is also a prolific writer, having written on energy and infrastructure secondaries for Private Equity International books. Keith still finds time to hold board seats on the Children's Health and Development Institute, the Hartford Public Library and the Children's Fund of Connecticut. An exemplary Young Gun.
15 Bernhard Ellmer
Elm Capital
age: 35
job title: partner
Advisory firm Elm Capital's youngest partner sourced and worked on more than 12 transactions representing about $750 million of net asset value in the first half of this year alone. Ellmer's transactions have been complex but consistent hits, ranging from cleantech assets in emerging markets to one of the first fund restructurings in Germany. The former SAP executive is not only well regarded for his sourcing efforts, positioning and ability as an advisor, but also as a successful karaoke event
co-organiser, we hear.


16 Dirk Jonske
UBS
age: 33
job title: executive director
Jonske is on track to earn the title "secondaries veteran", having already spent over a decade in the industry. His peers applaud his work on a $1 billion tender across three buyout funds, as well as on numerous GP-led transactions, LP sale portfolios and fund financing opportunities. He previously worked at Landmark Partners where he cut his teeth on the practical side of investing, assessing, underwriting and closing private equity secondaries investments.
17 Aiva Sperberga
Campbell Lutyens
age: 32
job title: principal
Enhancing and expanding the market is one of the attributes we look for in our Young Guns. Sperberga is doing just that, spearheading the advisory firm's Singapore office where she will lead the currently expanding Asia-Pacific secondaries team. Among her many deals is a transaction with a large Asian sovereign wealth fund on a disposal that included large cornerstone infrastructure fund interests. Will Asian secondaries finally take off? If Sperberga has anything to do with it, the answer is most likely "yes".


18 John Rife
Debevoise & Plimpton
age: 34
job title: associate
London-based Rife plays a leading role in devising, negotiating and implementing structures for end of life recapitalisations and other complex secondaries. With glowing references from some of the industry's biggest names, his CV includes advising Deutsche Bank on the formation of its SOF III fund, the recapitalisation of a Newport Global Advisors fund and several end-of-life fund recaps. A "formidable counterpart" who always ensures his client receives an optimal deal, Rife has a knack for making complex legal ideas understandable by the layman.
19 Michael McKell
Tullett Prebon
age: 32
job title: head of real estate secondaries
If our Young Guns list showcases professionals who are helping to expand the market, push boundaries and challenge the status quo, it's hard to look past McKell. While the Australian may not be as well known in global secondaries circles as others, McKell has built the brokerage firm's real estate secondaries business and has managed to close more than 150 deals worth more than $850 million in just two years. With his sector's deal volume heading toward a stellar year, he is quietly educating the market on its virtues.
20 Katie Stitch
W Capital Partners
age: 34
job title: managing director
In her 11 years at the direct secondaries specialist, Katie Stitch has become synonymous with creativity. She ran a tender offer in which 100 shareholders were offered variable pricing for each class of shares and investors could pick the price and quantity which they were interested in selling. She also ran a recapitalisation which saw her create a new class of preferred stock, allowing one shareholder to cash out while the others stayed in. Her ability to create bespoke deals for her clients makes Stitch stand out to us as a Young Gun.