He said it
"It doesn't feel like the right time to be heroic and taking a bet on a V-shaped recovery."
Simon Davy, head of private markets at the UK's Local Pensions Partnership, is feeling cautious. Read more at Infrastructure Investor (paywall).
Just happened
Fundraising gods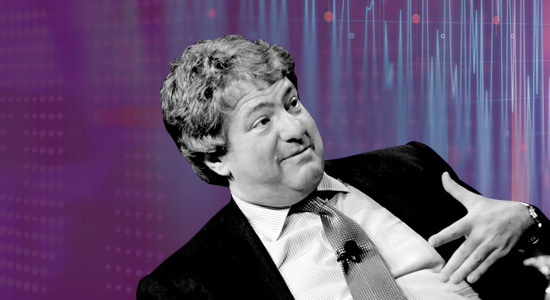 There was a lot to digest from Apollo Global Management's second quarter earnings call last Thursday. Here are the highlights:
Apollo added almost $100 billion in AUM, primarily through two big transactions in its permanent capital arm;
Having "quarterbacked" those two transactions, as co-founder Leon Black (pictured above) put it, fellow co-founder and senior managing director Marc Rowan is taking a "semi-sabbatical", stepping back from the day-to-day running of the insurance platform;
In a separate statement on Friday, Rowan said: "Taking a step back from day-to-day operations will allow me to focus my energy on the strategic direction of Apollo and its insurance and financial services businesses in particular. I have the utmost confidence in Apollo's co-presidents Jim Zelter and Scott Kleinman and the entire senior management team to continue to lead the firm's strong growth and performance";
Apollo is now in market with the next series of Accord strategies, as well as a second Hybrid Value fund;
After steep depreciation in Q1, the PE portfolio is up 11.7 percent, and Fund VIII is up 17 percent, meaning it's now out of clawback;
Credit AUM is up $91 billion, which includes $6 billion of new commitments raised for Apollo Strategic Origination Partners (paywall), and $1.75 billion for dislocation credit fund Accord Fund III B.
Carlyle diversity push
Carlyle, as well raising $12.4 billion in H1, has taken its commitment to diversity and inclusion up a notch, according to a spokeswoman. The firm is expanding its portfolio board diversity goal to 30 percent of all directors for companies controlled by Carlyle's private equity arm by 2023. The previous goal – set in 2016 – was to have a diverse board for all US private equity-controlled companies within two years of taking control. That figure is up from 38 percent in 2016 to 77 percent today. Other highlights:
Last year Carlyle implemented a requirement that at least two diverse candidates be interviewed for each open role. From now on, in the US, at least one of the candidates is required to be Black, Latino, Pacific Islander or Native American;
At quarterly business reviews, leaders and managers will be assessed against specific fund and departmental diversity and inclusion plans, informing decisions on promotions and rewards. All employees will also be asked to include a D&I-related personal objective as part of a new objective-setting process set to be introduced in 2021.
Scoop catch-up
In case you missed it, here are some of last week's scoops:
Inside tip
We're hearing that fractious US-Sino relations are affecting public pensions' appetite for Chinese private equity. Placement agent sources tell PEI a number of these institutions have paused new commitments to China funds due to geopolitical uncertainty. A senior exec at a China-focused GP said they don't expect trouble securing re-ups from existing US public pension LPs, but are finding those new to the market hesitant. Any experience of this? Contact alex.l@peimedia.com.
Essentials
Rolling over
The single-asset revolution continues in the secondaries market. Neuberger Berman's Italian PE business NB Renaissance Partners sold its entire stake (just shy of 50 percent) in Italian IT services business Engineering Ingegneria Informatica and reinvested in the company through a different fund, according to a statement. Apax Partners, which held most of the remaining stake in Engineering Ingegneria Informatica, exited to Bain Capital through a M&A process.
NPS: Koreans going Canadian
Korea's National Pension Service has declared war on fees with an overseas hiring spree. The 749 trillion won ($628 billion; €533 billion) institution will add 200 more employees to the existing 149 staff over the next four years in a bid to reduce external management fees by almost 700 billion won. Alternatives professionals will make up nearly half of new staff. NPS also plans to create dedicated private debt and secondary investment teams under its private equity division, the report noted. NPS's plans, part of CIO Hyo-Joon Ahn's efforts to boost global alternatives investments, need to be approved by the Ministry of Economy and Finance.
The pension, which ranks 12th in the Global Investor 100, PEI's ranking of the world's biggest private equity investors, has a 15 percent target allocation to alternatives by 2024, which currently stands at around 12 percent. More than a quarter of that figure is invested in PE, according to PEI data.
Dig deeper
LP meetings. It's Monday, so here are some LP meetings to watch out for this week.
5 August
6 August
---