They said it
"The industry has been historically pale and male… Historically there hasn't… been a huge amount of emphasis on ESG. Despite that PE has had a real focus on governance for decades and decades, and this is about taking majority control ownership of firms." 
Richard Clarke-Jervoise, global head of PE and private debt for BNP Paribas Wealth Management, notes during a briefing that the spotlight has been pointed very firmly on firms and whether they are putting ESG at the heart of their strategy
Just happened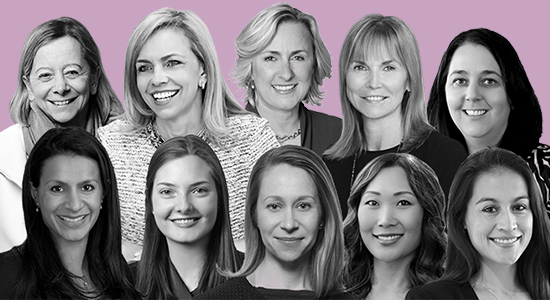 Women make their mark in private markets
Our inaugural Women of Influence list has been out for over a week now and it's been getting a lot of attention. From investment and fund management firms to law firms and third-party advisers, our list of 60 trailblazers celebrates female talent in private markets. These women were selected by our editorial teams from more than 680 nominations. Here's our list of game-changers, leaders and innovators in private equity.
Up on PEI this week: we highlight five steps private funds are taking to increase diversity. (It's not all about setting targets and improving reporting.) We also take a closer look at gender-lens investing in discussion with the International Finance Corporation, CDC Group, Actis and Development Partners International.
A hire the size of Texas
Speaking of women of influence, Vista Equity Partners has made a big-name hire, PEI exclusively reported on Friday. Shelby Wanstrath, co-head of private equity funds at the Teacher Retirement System of Texas, has left to join the tech-focused investor to focus on corporate growth initiatives. Wanstrath is understood to be joining to work with Vista's leadership on developing new products, enhancing fund management programmes and managing relationships with strategic partners, according to a source.
17Capital's largest pool for portfolio finance
17Capital has raised $4.5 billion for its latest preferred equity fundraising programme, according to a statement. The London-headquartered firm reached the hard-cap of $2.9 billion on 17Capital Fund 5, the rest coming in the form of separately managed accounts and co-investment capital. This is a big step up for firm, which has also entered the NAV-based lending space in recent years. Its 2016-vintage Fund 4 raised €1.2 billion.
Preferred equity and NAV-based lending facilities are both secured against cashflows from a portfolio of assets and can be extended without the need to precisely value the underlying assets. This has caused a spike in popularity since the covid-19 crisis as sponsors try to secure capital amid market volatility. Preferred equity transaction volume reached $7.8 billion last year, more than double the $3.7 billion of deals in 2019, according to data from investment bank Evercore.
StepStone's Greenspring buy
StepStone Group last week announced it would acquire Baltimore-based fund of funds manager Greenspring Associates. The firm will integrate Greenspring's capabilities in venture, growth equity, secondaries and directs into their platform, bringing firm-wide headcount to well over 700. This was the second acquisition of a secondaries platform last week after Paris-based Tikehau Capital absorbed Foundation Private Equity to expand into Asian secondaries. Ares Management's acquisition of Landmark Partners and TPG upping its stake in Asian secondaries shop NewQuest Capital Partners in the first quarter of the year are similar examples. We suspect the acquisitions won't be the last.
Essentials
NYCRS' direct investing play
The $261 billion New York City Retirement Systems' co-investment programme is officially up and running, PEI reports. It launched in June and is understood to have an initial $500 million to deploy via a separately managed account over two to four years. The programme will deploy co-investment capital with existing GPs as well as new sponsors the pension does not have existing relationships with, Katja Salovaara, senior investment officer at NYCRS, told PEI. "The intention is not to start competing in any way with our managers by having a more enhanced, direct capability down the line," she said. HarbourVest Partners was selected to help invest the programme. Details here.
Book review
A new book about the Abraaj scandal offers important lessons for the impact investment world, writes Toby Mitchenall, the editor of our sustainability-focused title New Private Markets (subscription required). The Key Man, by Wall Street Journal reporters Simon Clark and Will Louch, highlights the inherent tension of wanting to soothe the world's ills while needing to earn vast profits just to keep the lights on. It also unveils flaws in the way in which institutional investors assess private fund manager, with widespread groupthink meaning that poor decisions are often copied by others.
"Does The Key Man blow the concept of impact investing to pieces? No, but it does give it enough of a shake to show us its limitations," Mitchenall writes.
Dig deeper
LP meetings. It's Monday, so here are some LP meetings to watch out for this week.
12 July
13 July 
14 July
15 July
16 July
---
Today's letter was prepared by Carmela Mendoza with Adam Le, Rod James, and Michael Baruch.