Shruti Chandrasekhar, 39
Regional lead, private equity funds, Africa
International Finance Corporation

 
Shruti Chandrasekhar heads the private equity funds business for Africa at the International Finance Corporation, managing a portfolio of over $2 billion invested across the continent. Previously, Chandrasekhar oversaw a portfolio of unlisted closed-end private equity and venture capital funds across frontier markets, with a focus on emerging managers and impact, in addition to investing in growth-stage technology companies for the IFC.  
She has been praised for her efforts to "move the needle on gender diversity" and create "a gender-diverse market for private equity and venture capital in Africa", including through thought leadership on gender equality at the IFC and via her role as a board member for the Flagship Funds Committee at the 2x Challenge, an initiative to mobilise capital to support women's empowerment. She currently serves on multiple boards and advisory committees, and is described by peers as "extremely smart, kind and accomplished".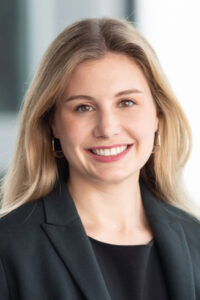 Nina Kraus, 31
Principal, fund investments
Hamilton Lane
Nina Kraus was promoted to principal at Hamilton Lane in April 2022 after building several new relationships with GPs behind which Hamilton Lane has invested primary and co-investment capital. Kraus now sits on the limited partner advisory committees of many of these leading European funds. 
Kraus is involved in the investment activities of the firm's global fund investment platform, which committed $29.8 billion globally in 2021, and has served as co-manager of the EMEA fund investment group since 2021. Since taking on this role, Kraus has contributed to commitments of €7.7 billion, bringing total commitments under her purview to €24.5 billion across European funds as of the end of September 2022. 
Kraus also plays an active role in ESG and diversity, equity and inclusion matters at Hamilton Lane. She leads the firm's primary investing ESG global taskforce and sits on its DE&I council. Her support for these areas extends outside of her day job – for example, Kraus chairs the Future Leaders Committee at the diversity-focused non-profit Level 20.  
Jonathan Mendonca, 33
Director, private capital
Ontario Teachers' Pension Plan
Jonathan Mendonca joined the private equity team at Ontario Teachers' Pension Plan in 2014 and, having been identified as a rising star within the organisation, made the move from Toronto to London last year to support the continued expansion of OTPP's London team into direct investments. Mendonca had previously led the pension plan's origination efforts in the food and beverage industry in North America where he sourced, executed and managed several deals.
Since his relocation to the UK, Mendonca has put his dealmaking skills to good use. He led the execution of the sale of Iberian funeral services provider Mémora to Groupo Catalana Occidente at an enterprise value of approximately €600 million, and played a critical role in the merger of web hosting and domain businesses dogado and group.ONE, which OTPP co-led with Cinven. He is described as having "excellent and balanced investment judgment".
Nick Milnes, 39
Director, head of Asian private equity
MetLife Investment Management
Nick Milnes joined MetLife Investment Management as head of Asian private equity in 2019. He is credited with helping to raise the profile of the insurer's asset management business in Asia and for spearheading several new initiatives, both in the region and globally, including being a part of the team that developed MetLife Investment Management's first private equity fund of funds in 2022.
Over the past few years, Milnes has led investment due diligence into several Japanese private equity funds on behalf of MetLife Japan, and later helped design a strategy and recruit a local team for MetLife China to invest into Chinese RMB-denominated funds. He also led investment due diligence efforts into US dollar-denominated Chinese funds. 
His standout activity in the region led one market peer to say that despite now being based out of London, Milnes "remains a well-known face among Asian GPs and LPs".
Sandeep Mirani, 37
Principal
Neuberger Berman
As a principal at Neuberger Berman Private Equity, Sandeep Mirani sources and evaluates PE investments as part of a team that manages more than $110 billion of client commitments. 
Since joining Neuberger Berman in 2014, Mirani is understood to have led over $2 billion of transactions across co-investments, primary investments and secondaries, including notable investments into financial services group True Potential alongside Cinven, and robotics and software company Autostore alongside Thomas H Lee Partners. 
Praised by peers for his multi-tasking skills, Mirani is also involved in raising and managing separately managed accounts and comingled funds at the firm, and has made a substantial contribution to the buildout of Neuberger Berman's European private equity business over the past nine years.