Home
Authors
Posts by Gerald Noering
The California pension is planning $58m in commitments for 2024.
The public pension fund is targeting up to $850m in private equity commitments for 2024.
The Los Angeles Fire & Police Pension System has slashed its emerging equity target allocation to facilitate an increased target allocation to private markets.
The growth equity fund invests exclusively in UK-based small- and medium-sized enterprise.
The US-based pension approved four commitments, including two to Genstar Capital.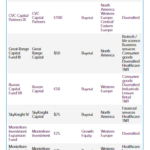 The State of Wisconsin Investment Board revealed six private equity commitments, including €100m to CVC Capital Partners IX.
The Santa Ana, California-based Orange County Employees Retirement System has revealed six new commitments including $50m each to American Industrial Partners Fund VIII, Ares Pathfinder II and TCG Crossover Fund II.
SBCERS has revealed two commitments to Kohlberg & Company and KPS Capital Partners.
The pension will commit up to $205m to its emerging manager program.
New Jersey Division of Investment allocates $200m to Vista Equity.