Robert Anderson, 39
Partner
FTV Capital

Throughout his 13-year tenure at growth equity firm FTV Capital, Robert Anderson has worked on 18 investments, totalling $1.2 billion in capital deployed. In the last 18 months alone, Anderson is credited with deploying more than $300 million. 
Anderson draws on his sector expertise to source and scale emerging fintech, payments and vertical software companies, with a particular focus on opportunities that leverage software to drive efficiencies and automation. 
He is praised by peers for his partnership approach and understanding that "building great companies is about the people". Anderson's current investments and board seats include the likes of payment processing company EBANX and fintech-as-a-service platform Solid, while his exits include payment service businesses VPay and WePay, among others.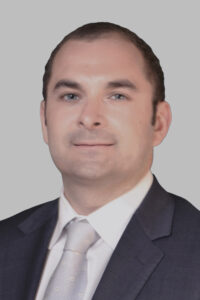 Felix Bernshteyn, 39
Partner, private equity group
Ares Management

Known for his "innovative" and "solutions-oriented" approach, Felix Bernshteyn is the youngest partner within the private equity group at Ares to have led deals across both its corporate opportunities and special opportunities strategies.
In his role as partner and deal team lead, Bernshteyn has spearheaded more than $5 billion in debt and equity investments across public and private markets, including investments in the telecoms, healthcare, media, financial services, infrastructure and services sectors. 
Beyond his day-to-day role, Bernshteyn has been a key contributor to recruitment, ESG and DE&I efforts at Ares. He has also turned his hand to fundraising, most recently helping to raise $7.1 billion for the firm's second special opportunities fund. 
Chris Candfield, 37
Director
Equistone Partners Europe

Equistone Partners Europe director Chris Candfield has been busy over the last two years, supporting investments into three new platforms, two exits and two large cross-border add-ons in the technology, media and telecoms and business services sectors. 
Last year, he helped oversee buy-and-build strategies for both global supply chain management provider Ligentia in its acquisition of Polish supply chain company VGL Solid Group, and marketing services business adm Group in its acquisition of consumer engagement agency Lapine. 
During Equistone's investment period in marketing business Inspired Thinking Group, Candfield worked with the management team to enhance the company's digital marketing capabilities and execute five strategic add-on acquisitions, a move that increased the company's EBITDA by 2.5x. He supported the sale of the business to Bridgepoint in March, followed by the sale of maritime voyage solutions provider OneOcean to Lloyd's Register in June. 
Evelyne Dioh, 37
Managing partner
WIC Capital

Evelyne Dioh is a managing partner at WIC Capital, a West African investment fund that targets women-led small and growing businesses. The fund was created in March 2019 by the Women's Investment Club Senegal with the mission of unlocking the full potential of women-led businesses and developing gender-lens investing in the region. 
Not only is Dioh understood to have played a key role in securing funding commitments for WIC Capital, which has already begun deploying capital, she has also been instrumental in the launch of WIC Académie, which provides technical assistance for female entrepreneurs.
As one supporter notes, Dioh's "drive and passion to assist underserved female entrepreneurs with both financial and non-financial support is commendable and making a real difference in the lives of women in West Africa". 
Prior to WIC Capital, Dioh worked at Fonds Souverain d'Investissements Stratégiques, Senegal's sovereign wealth fund, where she was responsible for managing transactions across several sectors, including industry, energy and agriculture.
Jean Ghabache, 39
Member of management, private equity health and life industry vertical
Partners Group

Jean Ghabache has been a key driver in the build out of Partners Group's European health and life team, having overseen the hire of 13 junior team members throughout 2021 and 2022. Ghabache has worked on multiple lead and joint-lead investments in the healthcare sector, with a total value of €2.7 billion. 
In 2021, he co-led Partners Group's lead investment in European pharmaceutical company Pharmathen, in a transaction that valued the business at around €1.6 billion. 
He has also contributed to the firm's minority investments in scientific communications services business Open Health, healthcare software solutions provider RLDatix, and pharmaceutical company Neuraxpharm, which is focused on the treatment of central nervous system disorders.
Hélène Henry-Prince, 35
Co-head, private equity regenerative agriculture strategy
Tikehau Capital

Hélène Henry-Prince, who has been with Tikehau Capital since 2011, recently played an instrumental role in the structuring of a private equity impact strategy dedicated to regenerative agriculture. Launched in 2022, in partnership with AXA and Unilever and with a target size of €1 billion, the strategy focuses on restoring soil health and biodiversity; reducing agriculture-related greenhouse gas emissions; and developing soil carbon capacities by fostering the transition to regenerative agriculture practices. 
Described by colleagues as a "highly valued, well-respected and talented" team member, Henry-Prince applies her investment sourcing, execution and management expertise to a range of transactions within the firm's PE business. For example, she was involved in the acquisition of a stake in data science specialist Ekimetrics alongside Bpifrance in 2020, and led the exit of media intelligence company Linkfluence in 2021 via a trade sale. 
Frances Houweling, 37
Partner
IK Partners

Frances Houweling joined IK Partners in 2013 and is the partner responsible for the firm's Benelux development capital investment team. She was recently promoted to this role in recognition of her achievements on the firm's Benelux small-cap investment team over the prior decade. 
While she specialises in the healthcare sector, Houweling has been involved in a variety of transactions across the Benelux region, including the firm's exit of interconnection solutions manufacturer 2Connect to Rivean Capital. During IK's ownership, the company more than doubled its revenues and completed two add-on acquisitions in Germany and the Netherlands. She was also involved in the firm's investment in Belgium's Plastiflex, which supplies tube system solutions for the healthcare, industrial and appliances markets.
Houweling is also a DE&I champion and chairs the Dutch Committee for Level 20, a not-for-profit organisation that aims to improve diversity in the private equity industry. 
Mike Libert, 35
Managing director
TA Associates

Mike Libert kicked off 2023 with a promotion to managing director. Given the scope of his activities at TA Associates, it's easy to see why. During his time at the firm, he has led or co-sponsored investments in 14 software company platforms, totalling in excess of $4.5 billion of invested capital. Libert has also originated or enabled more than 200 add-on acquisitions and executed five public-to-private transactions, according to the firm. 
Last year, he led TA's sponsorship and formation of data insight platform Lumivero, which was established through the partnership of three data software providers, QSR International, Palisade and Addinsoft, and he now serves on the firm's board. Libert also supports recruitment and talent development at the firm, and provides mentorship through TA's associate programme.
Rajan Shah, 35
Principal
L Catterton

L Catterton principal Rajan Shah is described as a "strategic thinker" and a "true partner" by those at a portfolio company he has worked with. One advocate praises him for being "fearless in challenging management frequently, always respectfully with positive intent, and always with a clear passion about what is best for the business".
While at L Catterton, Shah has sourced or led investments in businesses such as veterinary hospital operator Alliance Animal Health, eye care company FYidoctors and aesthetic medicine network Functionalab. He serves on the board of all those companies, as well as that of dental practice network dentalcorp. He also leads consumer health efforts for L Catterton's flagship buyout fund.
Prior to joining L Catterton in 2018, Shah was a principal at Ontario Teachers' Pension Plan where he focused on global opportunities in the consumer and healthcare services sectors. 
Jordan Siskin, 31
Director
Wafra

Jordan Siskin has rapidly risen through the ranks at Wafra, where he now helps lead the firm's strategic partnership investment mandates as a director. He has played an integral role in the growth of Wafra's GP-stakes strategy and has been described as a critical lead on asset financings within the firm's GP stakes portfolio. His track record is understood to include over $1 billion of realised proceeds for Wafra's investors through the financings of four of Wafra's interests in alternative asset managers, as well as through three sales to strategic acquirers or to other GP stakes investors. 
He also oversees key internal workstreams, spanning valuations, portfolio management and team resourcing, and is said to be a role model for junior team members. According to peers, behind Siskin's investment success lies "a quiet humility and the archetype of a true team player".
Aaron Sobel, 36
Partner, private equity
Apollo Global Management

The accomplishments of Apollo Global Management's Aaron Sobel, who co-leads investment strategy and execution in the media and entertainment sector, mark him out as a rising star in the private equity industry. Over the last year, he has led a number of noteworthy transactions, including Apollo's $760 million preferred equity investment in global media company Legendary Entertainment; the acquisition of Lumen Technologies' wireline assets to create broadband network provider Brightspeed; and the sale of a number of Cox Media Group assets to One Equity Partners, so that the business could focus on its largest TV stations.
Sobel also serves on the boards of directors of Brightspeed, Legendary Entertainment, cloud management company Rackspace, and Cox Media Group, as well as venture studio and incubator 25 Madison.
Lauren Zletz, 36
Principal
Warburg Pincus

Lauren Zletz has played a leading role in building out the cybersecurity portfolio at Warburg Pincus, sourcing, executing and managing a large number of investments in the space. A principal in the firm's technology team, Zletz has served as a board member, board observer or investor in several companies that have gone on to achieve successful exits or unicorn valuations, including cybersecurity business eSentire, and security ratings provider BitSight. 
Zletz also co-leads investment activities in the real estate technology, insurance technology, food technology, and sales and marketing technology sectors. Alongside her dealmaking responsibilities, Zletz has participated in a range of DE&I initiatives at the firm and co-led Warburg Pincus's Principals Charity Giving Programme.