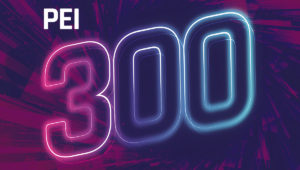 At a time when fundraising congestion has put a strain on overallocated LPs, for a private equity firm to stand out from the crowd is no mean feat. It is all the more impressive, then, that KKR has not only topped the PEI 300 for the first time, but has done so by an
enormous margin.
After eight years in the top three, KKR has dethroned Blackstone, having raised the most capital over the past five years. Blackstone had sat comfortably in pole position since 2019, and had been named number one in five of the past 10 years.
Alisa Wood, KKR

We're not market timers… we want to buy good assets and good companies that we believe we can make better
Speaking to Private Equity International about KKR's win, Alisa Wood, a partner in the firm's client and partner group, says: "We're not market timers. We believe we're fundamental investors, where we want to buy good assets and good companies that we believe we can make better through a very proven approach to value creation. That's who we are, and that's what we've done now for almost five decades."
We also spoke to KKR's co-heads of Europe in an exclusive interview.
The PEI 300 measures the amount of private equity capital raised over the five years to 1 April. This year's cadre raised $2.6 trillion between them, smashing last year's record of $2.25 trillion. The top 10 firms – each of which needed to raise a minimum of $40 billion to secure a spot in this upper echelon – collectively raised $588 billion. Indeed, to qualify for the 2022 ranking at all, firms needed to raise a minimum of $1.85 billion over the past five years, compared with $1.55 billion last year and $868 million a decade ago.
KKR's record-breaking sum of $126.5 billion accounted for more than 20 percent of the top 10's total and exceeded Blackstone's $82.46 billion tally by more than 53 percent.
KKR's largest-ever fund – North America Fund XIII, which closed on $19 billion in April against a $14 billion target – contributed to this mammoth haul. Giving context on the scaling up of the firm's operations, Wood says: "Our first [infrastructure] fund closed in 2011, and it was a billion-dollar fund… We then raised Fund II, which was $3 billion, in 2014. Then we raised Fund III, which was $7 billion, in 2018. And then, most recently, in the first quarter of this year, we closed Fund VI, which was $17 billion. So, we literally went from $1 billion to $17 billion funds in the course of a little over a decade."
Its overall fundraising figure was 36 percent larger than Blackstone's winning total from last year, and a 32 percent increase on the previous record (also Blackstone, at $96 billion in 2020).
Blackstone's drop came alongside a $10.8 billion decrease in its fundraising, as two funds totalling more than $6 billion – Core Equity Partners and Total Alternatives Solution 2016 – fell out of the qualifying five-year period.
Make no mistake: the top spot is likely to be hotly contested in future rankings. Blackstone is reportedly seeking as much as $30 billion for its ninth private equity flagship and plans to raise $150 billion over the course of its next fundraising cycle.
Ups and downs
Change was also afoot elsewhere in the top tiers: Carlyle dropped to sixth this year from fourth in 2021. Though the firm has often made the top three and was crowned top as recently as 2018, its five-year total fell $2.4 billion to $48.4 billion in this year's ranking.
Hellman & Friedman was the biggest riser in the top 10, climbing 28 places to reach ninth. It gathered $40.9 billion over the period – up from $16 billion last year – after raising a colossal $24.4 billion for Hellman & Friedman Capital Partners X in 2021. Conversely, TPG fell from eighth last year to 19th in 2022, with $32.8 billion raised.
With private equity funds seeking a mammoth $1.2 trillion as of April – according to PEI's Q1 fundraising data – and much of that by blue-chip mega-funds, future rankings may well look very different. Firms like KKR that are able to capture investors' attention through all this noise can expect top billings in years to come.
– Carmela Mendoza contributed to this report.