And we're on in three, two, one…
Creating a fully-formed, network-quality TV show is probably not the most common way to present an annual investor meeting to clients from around the world, but Scandinavian giant EQT did just that. In early June the investment firm teamed up with a media production company to hold its yearly LP meeting in the style of a TV show.
Streamed online to LPs via a portal custom-built by the firm's internal tech team, EQT condensed two days' worth of content into a two-hour programme that included updates on portfolio companies, performance and crosses to investment staff in London, Zurich and Hong Kong.
"We received really positive feedback from investors on the content and on the format in general," Jussi Saarinen, the firm's head of client relations and capital raising, told Private Equity International.
The programme was "live-on-tape" meaning it was pre-recorded in real time, and the virtual format resulted in around 520 LPs tuning in – almost double the 290 who attended the firm's investor meeting in person in Stockholm last year.
EQT's AIM-by-TV show comes as the private equity industry faces the challenge of how to stay connected with LPs and raise capital from existing or new investors remotely, due to the coronavirus-induced lockdown in many parts of Europe and North America.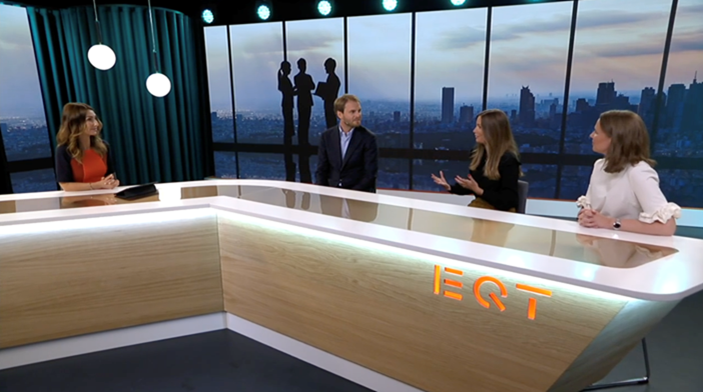 There is evidence that launching and closing a fund is possible during a global pandemic. Last week London-headquartered Tenzing Private Equity said it had raised £400 million ($493 million; €439 million) for its second vehicle, and that this was the first-ever buyout fund raised entirely virtually.
"GPs and LPs have embraced technology – it's almost jolted us into 2050," said Alexander Rayden, a senior managing director in Evercore's private funds group who advised on the fundraise. Technology brings greater efficiency and effectiveness to capital raising, he added.
In Tenzing's case, 40 percent of the capital raised was from investors who had no prior relationship with the firm. Some of these institutions had to change their investment protocols and seek approval from trustees to sign off on commitments for a firm they had not been able to conduct due diligence on or meet in person.
"I'm proud of the industry's ability to be dynamic and adapt," Rayden added.
According to Saarinen, EQT has raised capital from investors who joined the firm's platform after the coronavirus crisis began.
Not all investors can get comfortable with virtual fundraises. Speaking at a virtual industry event this month, Delaney Brown, head of private equity funds at Canada Pension Plan Investment Board, said committing to a first-time fund during lockdown would be tricky for the pension.
"We very selectively invest into emerging managers and first-time funds anyway, but right now I think it would just be more challenging to give them a fair crack of the whip," Brown said. "If they're a new group to us and the people are new to us, you can get so far in a virtual interaction but it's quite difficult to commit capital to somebody that you've not spent time physically with."
Brown added that should the lockdown continue, CPPIB would re-evaluate how it could get comfortable committing to such managers.
In addition to challenges around committing to first-time managers without meeting them in person, LPs are also losing out on the opportunity to bump into peers and swap notes at the investor meetings of the large GPs. In a survey of 107 LPs conducted by Coller Capital between February and March, almost three-quarters said they would benefit from more opportunities to interact directly with other PE investors.
This desire is particularly strong for North American LPs who want to meet other investors from outside their own geographic region, the survey found.
The future of investor relations and capital raising is most likely a hybrid model comprising virtual and in-person meetings, according to Saarinen, who added that EQT could continue to use more broadcasts and podcasts to communicate with its LPs. Still, nothing can replace in-person meetings, he warned.
"You can maintain relationships over the phone, and even video, but you can't build them over the phone," Saarinen said. "These virtual events, they will not replace physical meetings. We're social animals, and this is a people business. People want to meet and spend time together."